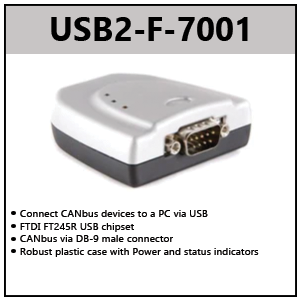 Description
The USB2-F-7001 and USB2-F-7101 are USB to CANbus adapters, providing a fast and simple way to connect CANbus devices to a host PC with a USB port.
The USB2-F-7001 and USB2-F-7101 feature the FTDI FT245R USB to FIFO IC to interface to the PC over USB. They also include a Microchip PIC with ECAN controller.
The USB2-F-7001 and USB2-F-7101 are powered from the USB port and do not require an external power supply. Note that they require 150mA and so must be connected directly to a USB Host port, or a self-powered USB hub (with an external power supply). Bus-powered USB hubs are not supported since they cannot provide the required current.
The robust plastic enclosure has several mounting options including desktop use and wall-mount brackets. The devices connect to the PC or USB hub via a standard USB type-B  connector.
CANbus signals are available on an industry-standard DB-9 connector conforming to the CAN-in-Automation (CiA) DS102-2 pin-out. The maximum CANbus data rate is 1Mbps. 

The USB2-F-7101 is an isolated version which features optical isolation to help prevent spikes and surges on the CAN bus affecting the USB connection or PC.

Feel free to browse through the corresponding datasheet for more information.
Document
Part Number 
Document Type
Version
File

USB2-F-7001 / USB2-F-7101

Datasheet

1.5
Download

USB2-F-7001 

/ 

USB2-F-7101

 

Quick Start Guide
1.3
Download

USB2-F-7001 / USB2-F-7101 

USB2-F-7001 / USB2-F-7101 

Application Note CAN Plus Custom CAN Data Rates

Application Note CAN Plus Message Filtering

1.1

 

USB2-F-7001 / USB2-F-7101

API Guide

1.1
Download

USB2-F-7001 / USB2-F-7101

Technical Note

1.1
Download
S1-A-7001
EOL Notification


Download
Downloads
| | | |
| --- | --- | --- |
|  Type | Version | File |
| USB2-F-7001 / USB2-F-7101 Driver  (Installation instructions found in the README.TXT file contained within the .zip file) | 2.08.28 | Download |
| USB2-F-7001 / USB2-F-7101 C++ DLL Demo Utility (GUI)  (Not compatible with 64-bit Windows) | 1.0 | |
| USB2-F-7001 / USB2-F-7101 C++ DLL Demo (Command Line) | | Download |
| USB2-F-7001 /USB2-F-7101 DLL LIB Header | 1.2 | Download |
Order Information
| | | | |
| --- | --- | --- | --- |
| SKU | Ports | Housing | Connector |
| USB2-F-7001 | 1 | ABS | USB-B |
| USB2-F-7101 | 1 | ABS | USB-B w/ Isolation |