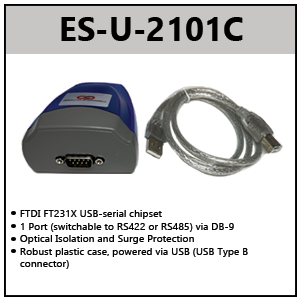 USB TO RS422/RS485 ADAPTERS W/OPTICAL ISOLATION (FULL SPEED)
Description
Our Optically Isolated USB to RS422/RS485 adapters are an easy way to connect RS422 or RS485 devices to a USB port your computer.
The isolation circuit provides an optical barrier between your computer and the RS422/RS485 bus connected to the unit, protecting the computer from harmful spikes and surges which may occur on the bus. The unit also features built-in surge protectors to further protect against spikes, surges and electrostatic discharge which may occur on the RS422/RS485 side.
Each port can be set as RS422 or RS485 allowing devices using either of these protocols to be connected. Each port has options such as termination and biasing and indication LEDs for Tx and Rx for easy diagnostics.
With their increased protection against spikes and surges, combined with a variety of port numbers and enclosure styles and easy to install drivers for a range of operating systems, these robust adapters are ideal for adding one or more RS422/RS485 ports to your computer.
Based on the renowned FTDI USB-Serial chipsets and drivers
Compact and robust design in a variety of metal and plastic enclosure styles
Microsoft Windows® WHQL-certified, macOS and Linux drivers
Optical Isolation between the USB and RS422 / RS485 interfaces
Surge Protection on the RS422/RS485 port
Each RS422/RS485 port can appear as a Virtual Com Port allowing easy use with existing application programs
Multi-port units create a separate COM port for each port with separate settings (such as baud rate and flow control) per port
Ports can also be accessed using the FTDI D2xx DLL functions
Signals (note that modes and signals may vary between models)

RS422: TxD+, TxD-, RxD+, RxD-, GND, RTS+, RTS-, CTS+, CTS-
RS485 4-wire: TxD+, TxD-, RxD+, RxD-, GND
RS485 2-wire: Data+, Data-, GND

RS422/RS485 signals via DB-9 and/or Terminal Block (depending on model)
Automatic Hardware (RTS / CTS) flow control on RS422 models (where signals are available on connector)
Software (X-on/X-off) flow control
Transmit and Receive LED indicators help to confirm operation and assist in troubleshooting
Available in 1, 2 and 4-port versions
USB powered or from external PSU (depending on model)
Variety of robust plastic and metal enclosures

Feel free to browse through the corresponding datasheet for more information.
Document
Part Number 
Document Type
Version
File
ES-U-2102
ES-U-2102-M
ES-U-2104-M
ES-U-2101C
ES-U-2101-MB

Manual

2.1
Download

ES-U-2101-M

Product Change Notification

Download

ES-U-2101-MB

Environmental Limits

Download
ES-U-2102
EOL Notification
Download
All Products
Drivers Installation Guide
1.0
Download
Downloads
Order Information
SKU
Ports 
Housing
Connector

ES-U-2102

End of Life (EOL) - Limited Stocks available for Sales 

For Bulk Orders, please contact
sales@connectiveperipherals.com

2
ABS
USB-B  w/Isolation

ES-U-2102-M

Din Rail Bracket (DR-201) the rank mount clip is available for sales.
if required, please contact us at sales@connectiveperipherals.com

2
Metal
USB-B  w/Isolation

ES-U-2104-M

Din Rail Bracket (DR-201) the rank mount clip is available for sales
if required, please contact us at sales@connectiveperipherals.com

4

Metal

USB-B  w/Isolation

ES-U-2101C

(Updated version from ES-U-2101B [USB-COMi-SI] to support higher data throughput)

1
ABS
USB-B  w/Isolation

ES-U-2101-MB

Din Rail Bracket (DR-201) the rank mount clip is available for sales. if required, please contact us at sales@connectiveperipherals.com

1
Metal
USB-B  w/Isolation