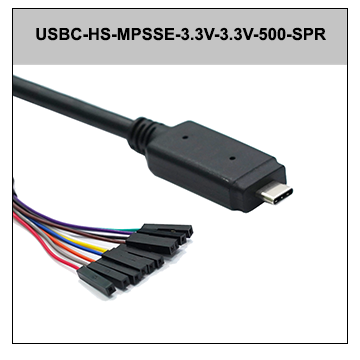 USB TYPE C High Speed MPSSE
SKU
USBC-HS-MPSSE-3.3V-3.3V-500-SPR
Description
The Hi-Speed Type C USB to MPSSE cables can be used to bridge USB to a variety of protocols including SPI, I2C, or JTAG at 3.3V logic levels.


The Type-C USB connector allows direct connection to the latest computers featuring Type C ports without requiring adapters. 

The cable has an FTDI FT232H integrated into the USB connector which handles all of the USB signalling and protocols. The FT232H includes an MPSSE serial engine which gives it the ability to emulate synchronous serial protocols. The use of the MPSSE libraries requires that FTDI's D2XX drivers are installed. 

The SPI / I2C / JTAG end of the 0.5m cable has ten single-pole female receptacles. These provide access to the ADbus lines which are used for the SPI / I2C / JTAG signals, as well as GND and VCC. 

The VCC wire provides 3.3V DC or 5V DC (depending on model) allowing external circuits to be powered.
Document
Part Number
Document Type
Version
File

DS_USBC-HS-MPSSE

Datasheet 
1.2
Download

USB TYPE C SERIAL CABLES

Brochure 
Download

All Products

Drivers Installation Guide 
Download
Downloads
Order Information
| | | | |
| --- | --- | --- | --- |
| SKU | Length  | Signal Voltage | Vcc output voltage |
| USBC-HS-MPSSE-3.3V-3.3V-500-SPR | 0.5m | 3.3V | 3.3V |
| USBC-HS-MPSSE-5V-3.3V-500-SPR | 0.5m | 3.3V | 5V |