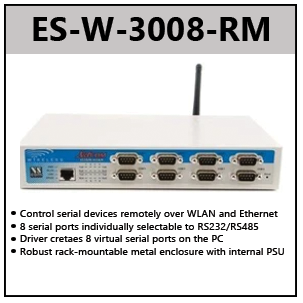 RS232/RS422/RS485 (NETWORK SERIAL SERVERS)
Description
The ES-W-3008-RM WLAN is a network-based serial device server for connecting eight RS232/422/485 devices directly to a network running TCP/IP. This network may be wireless based on IEEE 802.11b/g or wired via 10/100Mbps Ethernet.
Each port can be individually switched to RS232, RS485 or RS422 mode.
The ES-W-3008-RM WLAN comes in a robust metal enclosure with internal mains power supply which is also rack-mountable. It has Tx/Rx LEDs per port for easy diagnostics. It is supplied complete with antenna and power cable.
Features:
Controls 8 RS232/422/485 device located virtually anywhere (via WLAN, Ethernet or Internet)
Secure encryption on Ethernet and WLAN
WLAN Interface IEEE 802.11b/g 54Mb/s
Lan interface 10BaseT/100BaseTx Ethernet
Driver automatically finds other Serial Server devices in the network
Configuration over Driver Panels, serial Port, Telnet, WEB Browser, SNMP
High performance serial port supports baud rates of up to 1.843 Mbps (RS422/ RS485) and 921.2 Kbps (RS232)
Automatic mode switching between Driver and Raw Mode
Supports TCP/IP, UDP, Telnet, DHCP, ICMP, HTTP, SNMP V1/2c/3, DNS
Supports ART (Automatic Receive Transmit control)
RS232/422/485 interface selectable by Switches and Software
Complete with antenna and power cable
Order Information
Part Number 
Ports
Housing
Connector
ES-W-3008-RM
8
Metal
RJ45